Althea in Medellin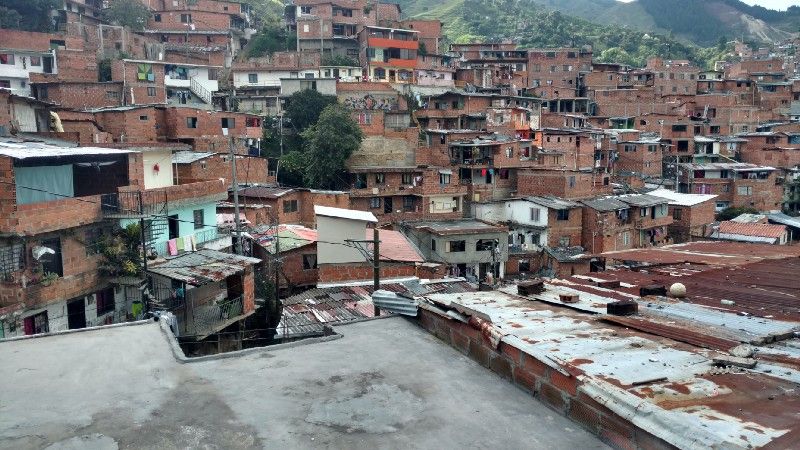 My trip to Colombia
Entonces(enˈtonses/, [ẽn̪ˈt̪õnses]) — One of my favorite Spanish words. It means then or so. I like the cadence, how it fills the awkward space in a sentence and how it conveys a sense of time and place. My trip in Colombia was a journey through time and place, the logistics of project management — The first this, then that and the witnessing of a unique place at a unique time in history. How Medellin, a once violent place, has transformed itself and revitalized its economy into a Mecca of progressive infrastructure and tourism.
Day 1: Where is the Box?
Medellin sits in a valley at the elevation of 4,905 ft, surrounded by dark green mountains. Housing and communities are haphazardly built up from the urban center along the sides of the mountain, reminiscent of barnacles clinging to the rocks on a seashore.
I arrived after an all night flight and was greeted by our gracious hosts, Forrest, Andrew, and Kelsey, the red_medellin team. red_medellin is a group of American ex-pats that have coordinated with the accelerators, non-profit organizations and the local community here using Althea to bring internet to the much needed outlying poor communities. We took a winding taxi cab ride down the mountain into Medellin. Driving here has a video game quality — everyone is seemingly unaware of traffic laws, acceptable speed, and dividing lines. That's when I saw it — an elusive horizontally aligned sector antenna! In most places, sector antennas are aligned vertically so that the beam covers the largest area possible horizontally. A horizontally aligned sector would provide coverage vertically, so it would be useful only on the sides of a steep hill or coverage to a skyscraper. I suspect there are very few places in the world where this makes sense.
I brought with me a duffel bag full to the brim of routers, cables, and an old Thinkpad for programming radios. It's fortunate that I did so, because the box that was shipped from the United States had not yet arrived. Neither had the boxes with Ubiquiti radios, ethernet cables, and most everything else we needed to build the network. There were other logistical issues that had manifested as well. The location for the sector antennas, a school perched on the very top of the community, has not been confirmed and Claro, the ISP providing our backhaul connection, has not yet told us when they will be installing. All was not lost, however, there were still routers to be flashed! So, we began to flash routers with the Althea firmware while Andrew and Kelsey made phone calls. The phone calls were successful and the radio equipment arrived without incident and we made a tentative appointment with Claro. As I walked back that night, I heard the band playing — Bon Jovi's "It's My Life", sung in heavily accented English, from a Hard Rock Café.
Day 2: Shopping
The red_medellin team has chosen Casa Morada, a location nearby the Comuna, to beam the wireless backhaul to a school at the top where the sector antennas will broadcast internet throughout the community. We will need a roof mount for the RocketDish antennas chosen for Casa Morada. Jehan, who's also working on Althea, has arrived this morning and shown some skepticism that the rocket's antenna, a 31dbi dish which looks quite large in its cardboard packaging, is perhaps overkill for this less that 5km shot to the school. He communicates this observation through subtle chuckles and ponders whether the smaller NanoBeam antenna may have been adequate.
Andrew, Kelsey and I go to take a look at the roof at Casa Morada, and it's determined that a non-penetrating roof mount, will do the trick. Where do you buy a non-penetrating roof mount in Medellin, though? The typical way of buying things online doesn't work here, and even in the United States it is a specialty item not available at hardware stores.
We decide to head to the market areas of town, a place with streets of many small vendors. The vendors here typically have a small area to display their merchandise and hand you the items from behind counters. And the carts! Many sturdy, well-made carts are loaded down with fruit, vegetables or other wares and parked or rolled up and down the street. Some vendors, weary of calling out the name of their goods, have pre-recorded advertisements played on antiquated loud speakers. I'm reminded of the cart in a popular Colombian music video, one laden down with a 70s era speaker system and rolled down the hill behind dancing people.
We stop at the hardware vendor, who points us three blocks down to a sort of industrial section of town. We pass restaurant equipment, motorcycle repair shops, and finally see the welding sparks we were looking for. We show the welder a picture and Andrew, who speaks fluent Spanish, helps negotiate price and delivery. He can manufacture and deliver the stand tomorrow, so our work here is done. As we walk to a cleaner place to eat, a hat vendor keeps pace with us, in case we may change our mind about a hat purchase today, and there in a courtyard, I see a man in full armor, waiting, I surmise, for someone to take a picture and give him a tip. But, why, I wonder? Does full medieval armor have any cultural significance? He seems very out of place as he stands alone in the heat. What led him down this occupational path? I wish I spoke Spanish — I would have asked.
In the afternoon, we make our first trip to Comuna 13. Comuna 13 used to be a very violent place; a place controlled by Parmilitares, FARC, and ELN because of its strategic location suited to the transport of cocaine and weaponry. Recently, the government has made many strides to improve infrastructure and transform Medellin into a what is now a popular tourist destination. The transformation of Comuna 13 is something Medellin is proud of, and there are even tourist "graffiti tours" in another part of the neighborhood, where the government has installed escalators. Something about a bunch of rich tourists on some glitzy tour of how poor people live doesn't quite sit right with me though.
The taxi cabs stops at the bottom of the hill at an intersection and a place with a few small grocery shops and restaurants. Jehan and Forrest are there with most of the radio equipment and cabling that will be brought up to the Son Bata recording studio, which we are using as a base camp and secure place to store the equipment. And then we hike, up the steep incline of the main street and up multiple staircases and inclines. Most of the people here are under the age of sixty, and we see signs of daily life as we walk — a hair dresser is braiding hair, children are playing, and music comes from one of the many houses piled on top of each other.
We hike to the top of the Comuna where the small school is located — escuelita, I hear one of the children call it. The view from here is breathtaking. The dense housing, strong community and the incredible line of sight make Comuna 13 an ideal place for an Althea wireless network.
Day 3: Sick
I am sick to my stomach all night and this day is wasted time for me.
The rest of the team, together with a local handy man, installs the roof mount and the RocketDish at Casa Morada. They head back to the Comuna and hold a community meeting. There are about fifteen attendees at the meeting. Many here are people wishing to be an intermediary node, which is a house that connects to other houses nearby and earns some money from forwarding bandwidth along. Here in the dense housing environment, these homes will be connected with an outdoor rated ethernet cable. The team also installs the first client node at Tomario's house. Tomario quickly takes to learning how to crimp networking cables and installing the LiteBeam antennas. It's interesting to envision how this group of local people building and supporting the network, a subnet DAO, might coalesce here.
Day 4: A late start
Forrest and I got a late start but did manage to do some shopping for supplies, flash the EdgeRouter x for use at the school, and set up the the PrismStations (the sector antennas).
Day 5: The school
We went back to Comuna 13 again. We were hoping this time to get a definitive answer from school staff that we could locate the receiving end of the wireless backhaul and the sector antennas here. Up to this point, many phone calls and conversations have gone back and forth, attempting to determine just who had the final say in the matter. Many of the critical elements of this project come down to getting the "yes" from the appropriate person. The "entonces" moment — the "yes" from the right person, and then we can move forward.
When we get to the school, we are granted an audience with the school administrator and Andrew patiently explains the goal of our project and the mechanics of how we would like to mount the antenna. Many small school children flock around us, asking questions and practicing their best "hellos" in English. While the school administrator likes the project, she needs to see more diagrams and a written description of the mounting plans. There is still time in the day to do more of the LiteBeam installs. The LiteBeam is a smaller CPE radio, or customer premises equipment, for use in this case at intermediary nodes to connect them with the main sector antennas at the school. We first hook up the sector antennas temporarily at Son Bata so we can bridge them and show the home owners how they can aim the LiteBeams. Most of the people living in Comuna 13 own their homes, and I'm told a home here sells for around $5000.
We do a quick setup at one of the more colorful homes, set up high on the hillside where we find the antenna almost impossible to not aim correctly with such perfect line of sight. Jehan and I have to leave earlier than the rest of the group for an interview at Espacio, a local media incubator, which means we have to attempt to catch a taxi. This proves to be a rather difficult and we walk for some distance before finding success. This gives me the opportunity to spot some horses tied up at a nearby school and a poster which lists the prices for internet. red_medellin plans to provide Althea internet to the Comuna for 600 COP a GB, far lower than the current ISP's 27,000 COP for 1.3GB. The day ends with a trip to the Blockchain Center and Andrew gives a presentation in Spanish about Althea to local Ethereum enthusiasts. There is free pizza offered here, just like Ethereum meetups in the United States.
Day 6: The Last Day
It's my last full day in Medellin and we have heard that Claro might be installing the backhaul internet at Casa Morada today. We head there, hoping that is the case and that we can finish installing the Althea router. The router chosen as the Althea gateway is, in fact, just an older Dell Optiplex that has been flashed with the Althea firmware. It's perfect for this location because we have a bit more room and we can use the extra performance a desktop can provide. Unfortunately, Claro did not keep their appointment time, or call us to let us know they would not be coming. We did, however, have a great conversation with some local young people, one of whom was holding an injured bird in his hand. Andrew and Kelsey also took the opportunity to share with me the amazing public transit system and we took a tram ride over another part of Comuna 13. Medellin's public transport system is a source of pride, as indeed it should be — it's kept clean and orderly and dozens of people direct traffic and keep things moving forward.
I am excited to see the progress as red_medellin continues to move things forward with their Althea deployment. The yield of their efforts will be faster, less expensive internet for the community that will provide education and economic opportunity. The financial benefit of this system will also be kept in the community instead of benefiting large, monopolistic ISPs. "Entonces una mejor internet para todos." Then, a better internet for all.
Thanks to Jehan (hide) and Justin Kilpatrick (hide).