Case Study - TreeLink in California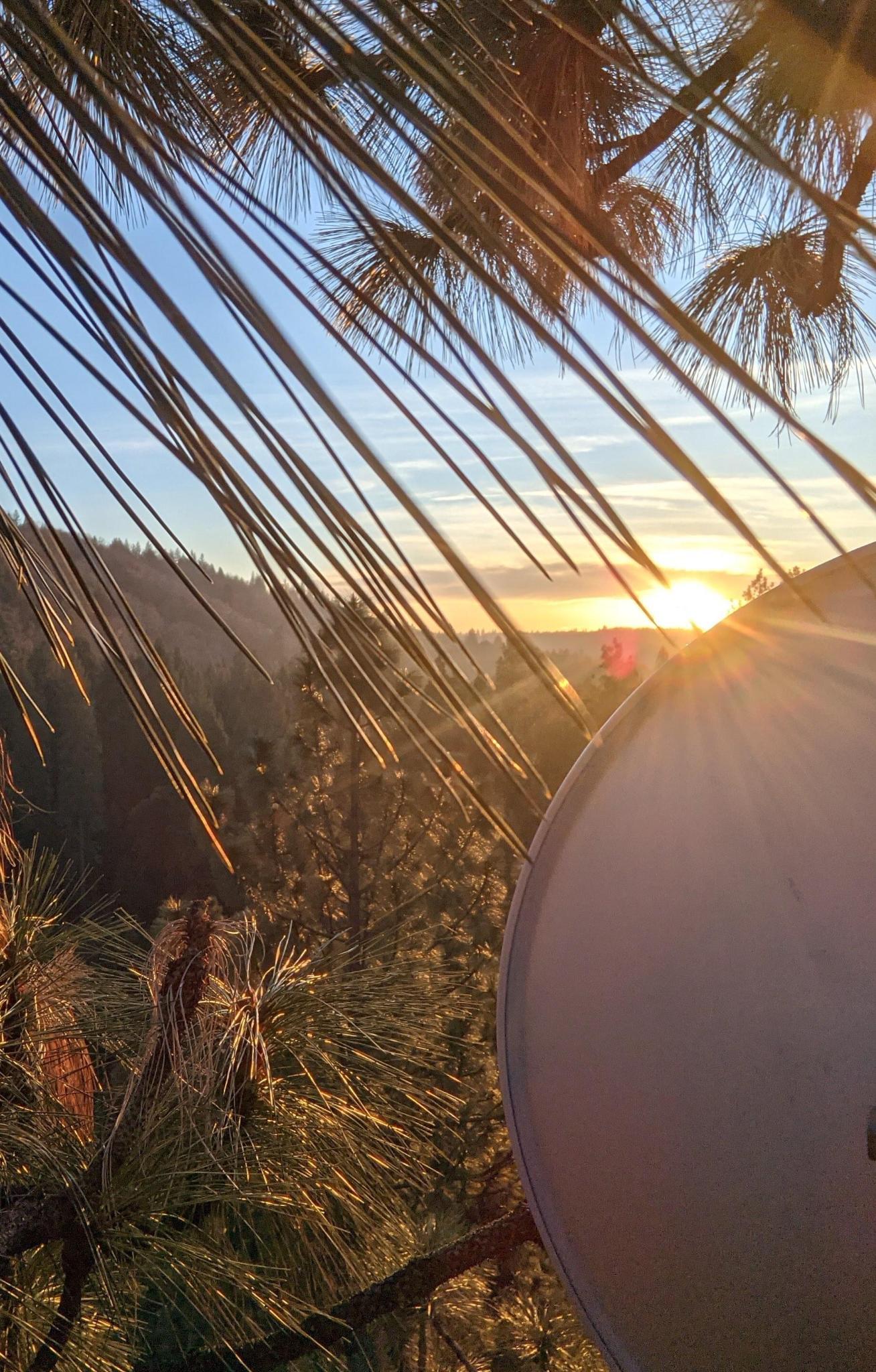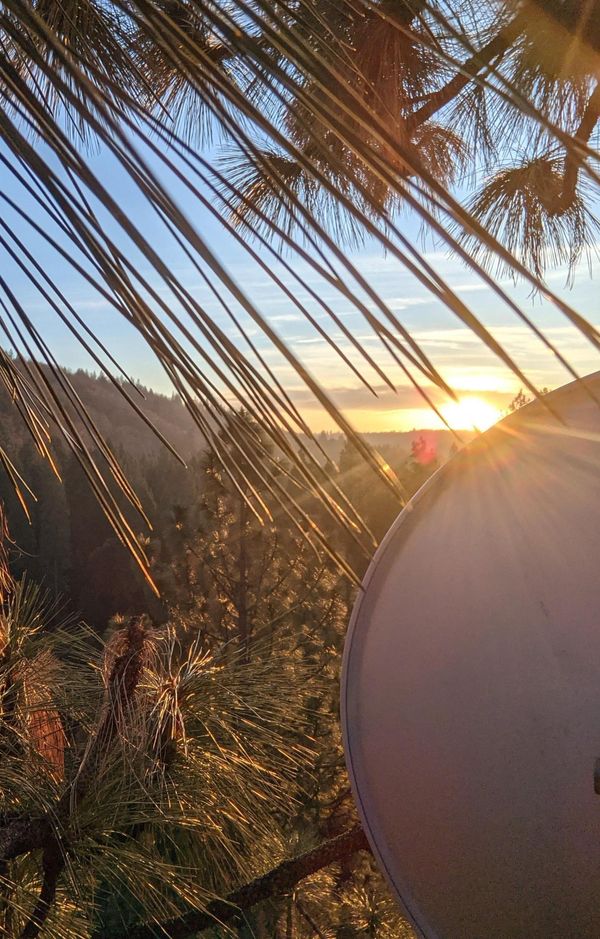 The Althea technology and platform is a powerful set of composable tools for building networks in even the most challenging environments. Components like a flexible billing system, automatic revenue share system, smart routing and monitoring are like "broadband legos" for building networks virtually anywhere.
In 2020, that's exactly what Thomas Spellman needed for his rural community in Nevada County, nestled in the Northern California mountains. Nevada City is a small town of roughly 3,500 people with hills, valleys and tall pine trees.
The Challenge:
Build a broadband network for a community of 3,500 people with very few alternatives.
Initial Capital: $10,000
Terrain: Rugged, tall trees, hills & valleys
The Solution:
Althea Platform
Medium: Fixed wireless solutions from Ubiquiti
Network Operator: Yuba Village Internet LLC, d.b.a. TreeLink, a private small business
Users and Relays: 146 total users, with 26 Relays

Althea is medium agnostic, and Thomas chose a fixed wireless solution for the initial build out, which provided flexibility and allowed for resilient and redundant failover as well as an agile build to the outlying areas of the network. In a legacy network, central towers would provide one point of coverage to the area. These towers are often expensive and don't provide adequate coverage in challenging topology, like rural Nevada county.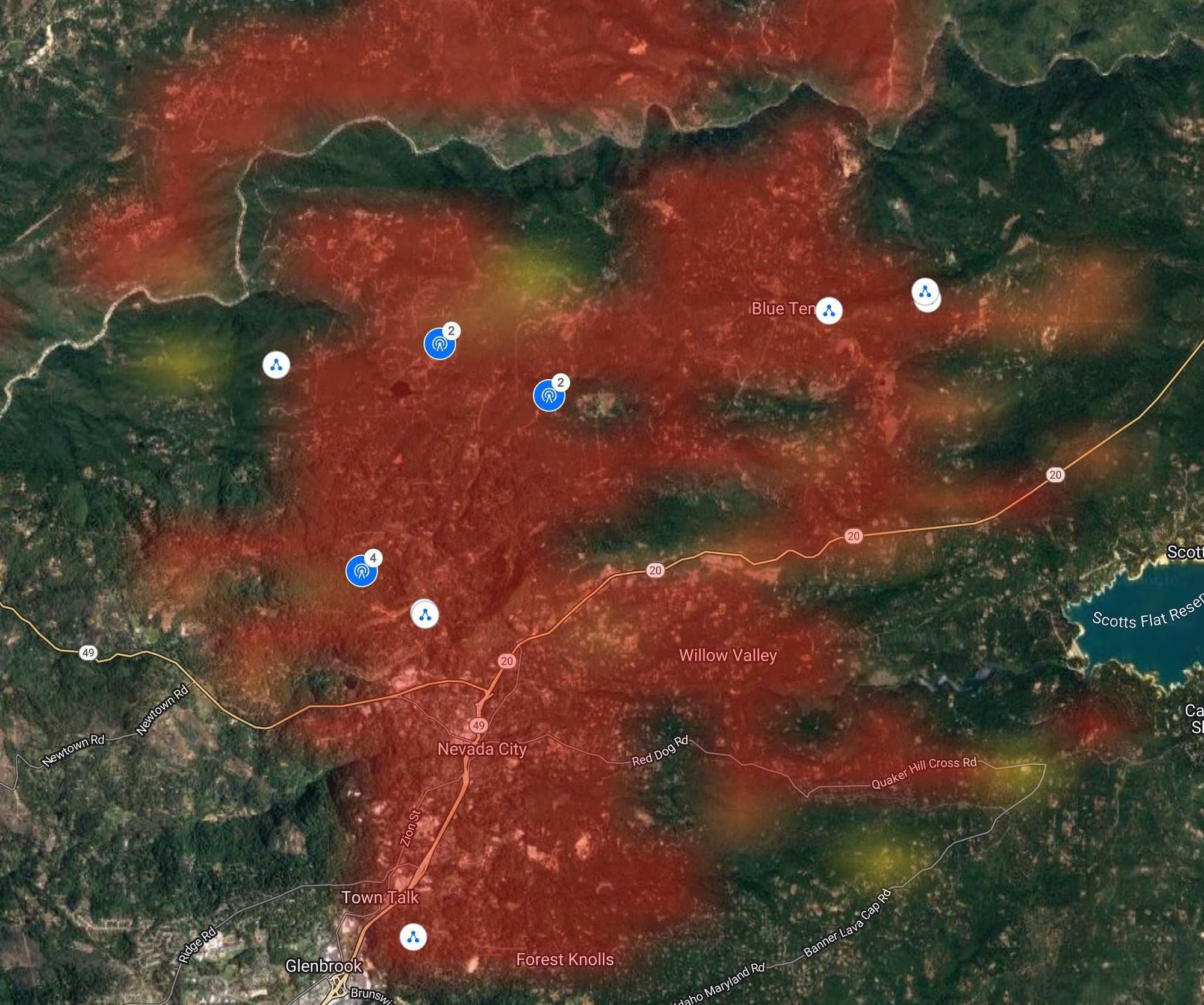 With Althea, many homes, farms and businesses can become relays (hosted broadcasting antennas) and Althea's payment system pays them for contributing to the network.  Similar to a distributed solar system, which pays users for providing solar energy back on the grid by measuring and remitting credit, Althea's smart and price aware routing protocol, measures the amount of data forwarded through the relay antenna and compensates the relay host automatically in micro-transactions. Some relays in the TreeLink network are able to offset their internet costs and even earn extra money.

This relay system made it possible to build into hard to reach areas, and easy for the network operator, TreeLink, to negotiate roof leases without having to worry about sending payments to each relay, or manually calculate profit shares.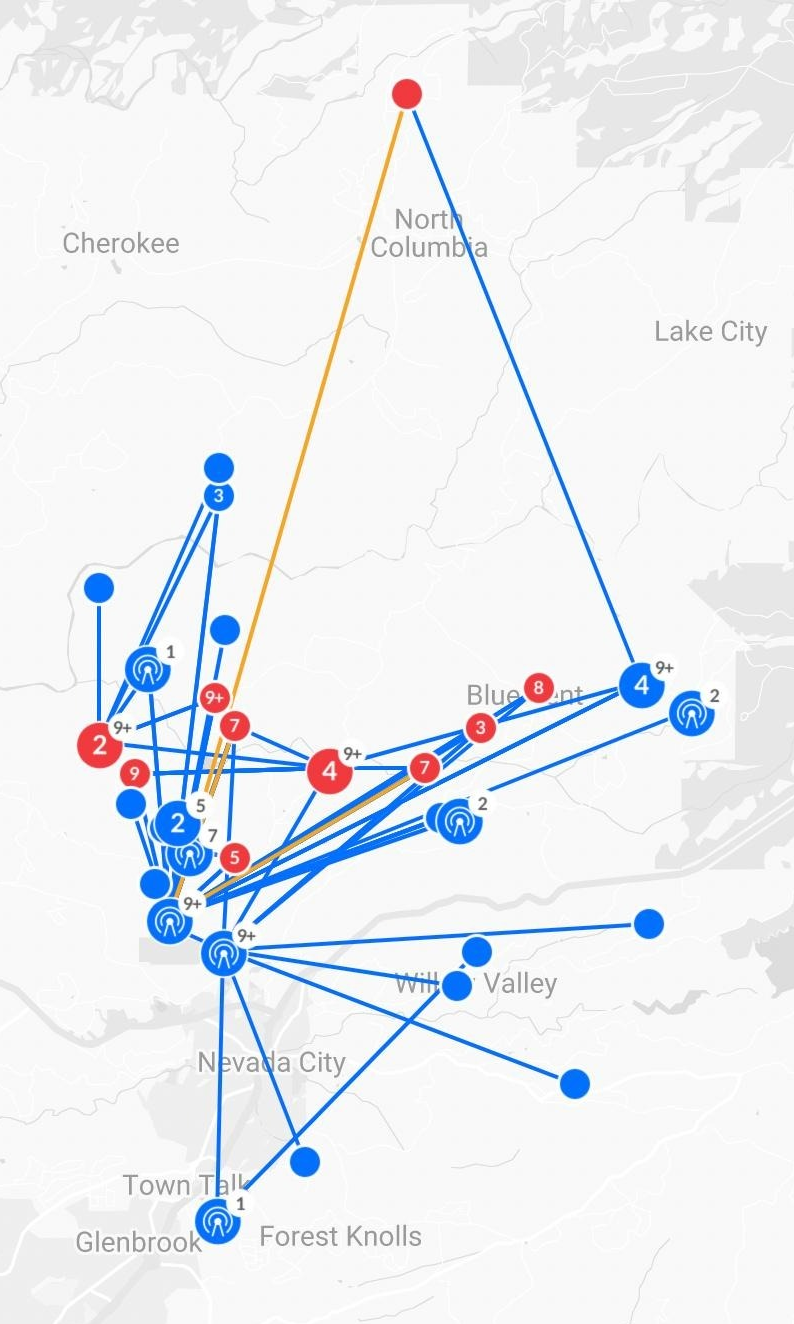 This also added flexibility to the capital needed to build out the network. Because the infrastructure of the network's billing is separate from the customer service and governance layers, many unique funding mechanisms can be used.  Each user and relay pays for and owns the equipment needed to be part of the network, so a large initial investment wasn't needed; the network grew organically, according to the needs of the community. When ATT DSL began shutting down older connections, TreeLink was there and able to rapidly expand to meet the needs of the community.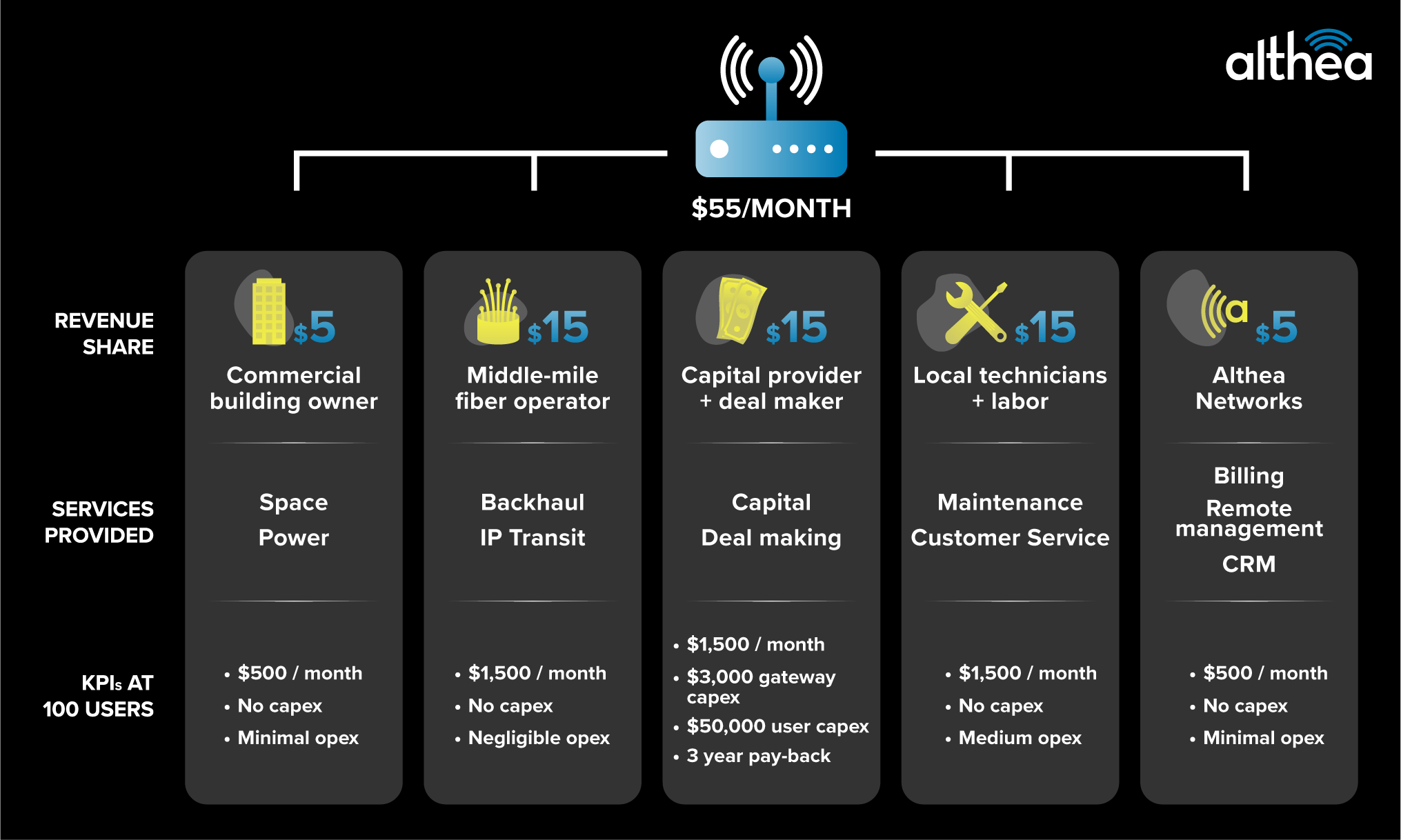 Thomas did have a tech background, but not experience with building ISPs, so he was looking for an easy-to-use solution that met the needs of the rural community, both from a technological and economical perspective.

I chose Althea mainly for the integrated metering and micropayment billing, as well as the smart throttling and secure VPN.  These features in every Althea router made it easy to build a mesh network of neighbors helping neighbors.  Another primary reason is because it's open source, which allows me to fix problems if needed, but the dev team has been great at continually evolving the system.  Last but not least, Althea's customer support has made it possible for me to focus on maintaining the network without needing to hire extra support staff. - Thomas Spellman, TreeLink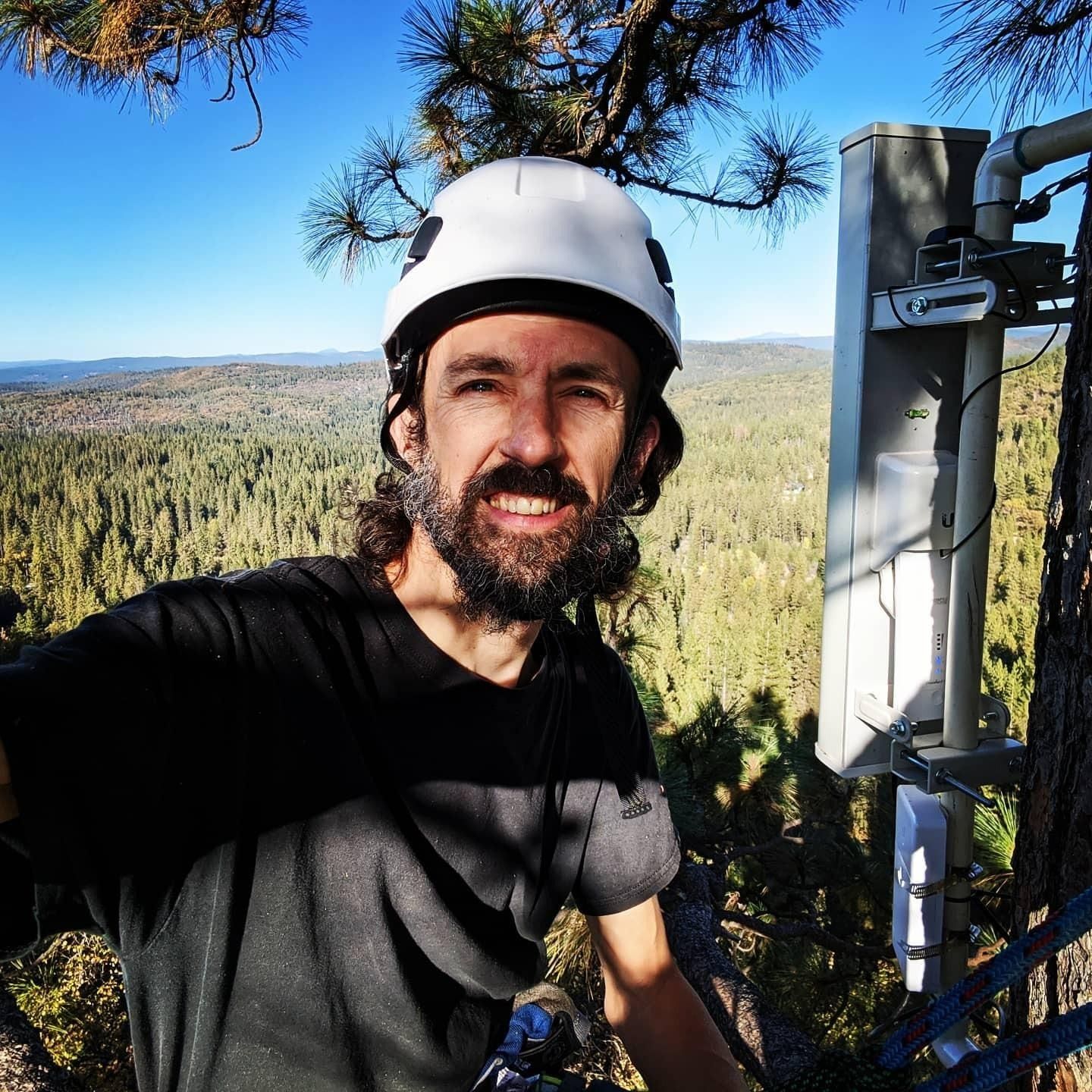 The Althea platform made it easy to not only build a network in this agile way, but also to monitor and maintain a diverse set of networking hardware from one platform. From the Althea Operator Tools dashboard, the network operator can monitor a variety of metrics related to network health, equipment temperature, link performance,and perform troubleshooting and maintenance. Because Thomas' network is maintained by just him and another technician, it was important that the platform selected was easy to learn and also made it possible to operate and fix the network remotely.
As the network expands, Thomas plans to work with a community fiber network, Northern Sierra Broadband, and the open access Althea infrastructure will interconnect. He'll also be deploying CBRS in the non-line-of-sight areas.